Music phones in the world there are many. There are a lot of sports. And both fairly close-machines are available to active young people leading hectic, sometimes extreme lifestyles. So why not combine the "Sports" and "music" in one device? Meet-the Nokia 5500 Music Edition Sport.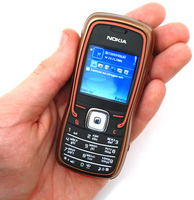 Black and orange hull is seen as a youth version, so devoted audience of potential buyers-active young people. Box, which is the Nokia 5500 Sport ME, suspiciously high, and without reflection, because of the musical version of the assembly added sports accessories. It is not clear why it was not possible to them and the "normal" version, it is possible to the music phone, they do not have any.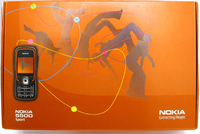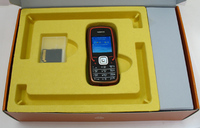 Most of all we liked the stylish belt with a special insert for fixing phone and a small pocket, reflective material covered in this pocket can be, for example, keys. becoming a part worn on the shoulder anchorage. In addition, we have found at the wrist band and another strange piece, vognavshuyu us for some time suspended. Instruction about it said nothing had to call hotline Nokia to know for sure is an attachment to a bicycle.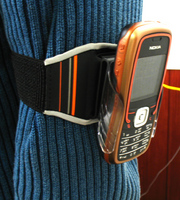 mp3 - player

Some of the most player. Run it through a button switch modes, located on the right side smartphone. The main way to control the player using the remote, to connect your phone and headphones. There are buttons: Play, Fast in both parties (also serves as a transition between tracks), control volume, answering the call button and the button Push-to-Talk. The buttons are not easy to work perfectly, especially volume - they are too stringent. On the other hand, excludes accidental pressing. Cash is secured through stop at any convenient place, you just do not forget that there is a microphone headset. By remote control any earphones connected to a standard 3.5 mm connector, the remote interface is familiar in the form of POP port. Thus, you can connect to any infra headset with 3.5 mm plug, which when connected to the remote control transformed into a headset, it is in remote vmontirovan microphone. And if the nest was 3.5 mm on the phone, then use their own headphones during conversation had to hold the phone with mouth, it does not own a headset microphone.


For the first time players will search all music files in the memory device and add them to the library. Further work was carried out with albums and performers, rather than files and folders. Supports play lists, the number is not limited. In addition to custom, there are three dynamic list: frequently used, and lost recent past added. Play lists can be played in sequence or at random, with repetitive compositions in reaching the end of the list or not. Options include: EQ (5 + custom preset, pyatipolosny), the balance of sound, reverb (5 plants), more stereo, strengthening the lower frequencies. With these adjustments can choose for themselves the best sound quality.
Conclusions


Nokia 5500 Music Edition is not the best choice for music phones. But we must realize that this is not just music phone - especially securely protected machine with features smartphone. When you go fishing or trekking, listen to music at normal music phone is not only inconvenient but also dangerous, or the slightest material drop tubes, and you ostanetes not only without music, but without context. For Nokia 5500 such problems do not exist: entertainment, sports and business function machine available to you in any extreme conditions.